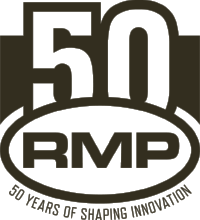 As Rivers Metal Products celebrates 50 years in business, we'd like to personally thank all of our clients, partners, and employees who have helped make Rivers Metal what it is today.
In 1967, Darryl Rivers started a one-man shop called Rivers Welding & Repair. The operation quickly grew and was renamed Rivers Metal Products. In the early 1970s, Rivers Metal pioneered the development of fabricated stainless steel molds. Since then we have contributed many innovations to the field of rotational mold tooling.
Over time, Rivers Metal diversified beyond rotational molds. Custom metal fabrication requests from manufacturers, businesses, city governments, universities, and more became another primary component of our business. Along with metal projects around the world, we also collaborate with local artisans, hobbyists, farmers, and homeowners on their special projects. Rivers Metal sells metal materials, designs, and does many quick fabs of items that "need to do this."
In conjunction with 50 years, Rivers Metal Products is marking this golden anniversary with a special logo and planning an internal celebration.
An established metal fabricator since 1967, Rivers Metal Products is a recognized leader in the design and fabrication of custom metal products across the nation and the world. As an industry pioneer and innovator, Rivers Metal Products provides customized, knowledgeable metal solutions. Adaptability and expertise means Rivers Metal Products is well positioned to handle the needs of diverse customers across many industries. For more information, visit www.RiversMetal.com.