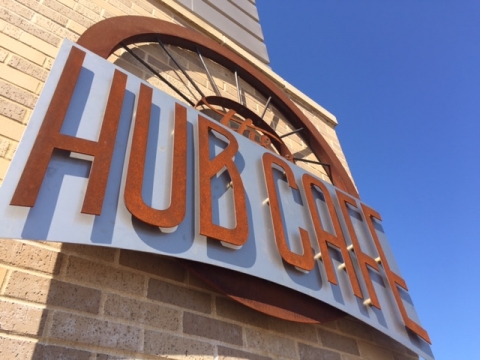 The farm-to-table Hub Café wanted décor as fresh and interesting as its food. Owner Doug Dittman collaborated with Rivers Metal Products to add a few little metal details.
The Café, which opened in 2016, is located in the six-acre block of Union Plaza in the heart of Lincoln.  The area has wide trails that meander along Antelope Creek, large boulders, natural landscaping and cement fixtures. Doug wanted to pick up on the feel of the neighborhood, yet be as welcoming to trail users as it was the downtown lunch crowd.
"Rivers Metal Products works well with these sort of loose guidelines," said Doug. "They are really open to kicking around ideas and coming up with something amazing."
Amazing certainly describes the large custom metal chandelier hanging in the main dining area. Called the wine-delier by Doug, Rivers Metal Products created a striking, one-of-a-kind lighting fixture from an antique wagon wheel and a collection of special wine bottles. The chandelier represents the farm-to-table theme while also providing a unique and artistic vibe.
A gorgeous community table custom-made by Rivers Metal Products is another perfect accent to the Café.  Made from two live edge oak slabs, Rivers Metal Products repurposed steel I-beams to create a metal, inset tray-like feature down the center. Large leveling screws add dimension to the legs.