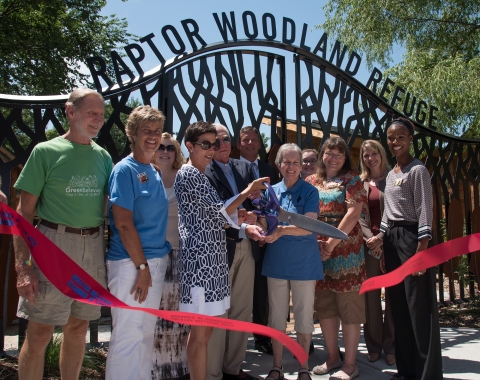 Thirty feet above the forest floor among the bur oak canopy is a habitat of natural wood enclosures for falcons, hawks, owls and other birds of prey that can no longer survive in the wild. In this picturesque setting of the Raptor Woodland Refuge, it's only fitting that the gate designed and fabricated by Rivers Metal Products is equally as beautiful.
Fontenelle Forest in Bellevue opened the $2 million Raptor Woodland Refuge in 2016. The Refuge provides a source of education and enjoyment, as well as revenue to support Fontenelle Forest's Raptor Recovery operation, which rehabilitates 500-600 orphaned, ill or injured raptors statewide each year.
Todd Rivers, of Rivers Metal Products, has served on the Fontenelle Forest Board for a number of years. So when architectural designs called for a metal gate to the Raptor Woodland Refuge, it seemed natural to turn to Rivers Metal Products to make it a reality.
Rivers Metal Products provided several design options for a gate that would look as good closed as it would open. Design concepts included metal feathers that would rust and add color and beauty, and when the gate was open would line the bridge to the Raptor Refuge.
"Working with Rivers Metal Products was wonderful. The team was truly interested in what we were doing from design to installation, and the quality of work was amazing," commented Rick Schmid, Director of Operations for Fontenelle Forest.
The 9-foot custom metal gate to the Raptor Woodland Refuge complements its beautiful natural surroundings and feels welcoming. Elements and design features purposely coexist with the surroundings, from the gate's elegant curves like the forest trails to the metal feathers that will follow the color of nature as it ages. The forest itself serves as a gorgeous backdrop behind the custom-made gate.