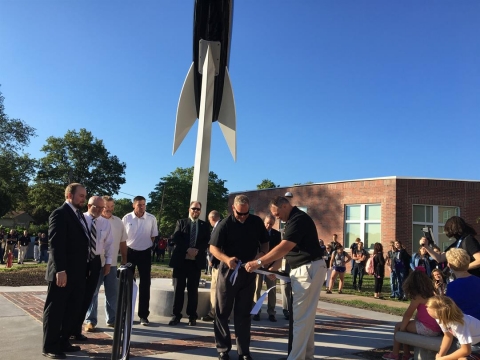 Public art projects are one of the special things that differentiates every city. The best projects are enjoyed by many and become an iconic part of the community, but rarely do they ever become a strong source of pride and togetherness. The Northeast High School Rocket sculpture is the perfect example of this, a community working and coming together to build something that everyone will be proud of for decades to come.
Northeast High School has been the Rockets since 1941 but didn't have a mascot sculpture for 25 years. In the 1960s, the decommissioned Lincoln Air Force Base donated a Nike Ajax missile, which was mounted on the front lawn. A symbol of modern technology, the rocket was a visual representation of school and community spirit and loyalty for nearly 30 years, before mysteriously disappearing in 1990. For 25 years the school had no sculpture while the other Lincoln high schools all had sculptures and sometimes multiple sculptures.
"It was a symbol of childhood. Of strength. Of school pride. It was a symbol of neighborhood. It was a great place to play," remembered 1991 LNE Alumni Jason Lemon.
To commemorate the school's 75th Anniversary, members of the Lincoln Northeast High School Booster Club embarked on an ambitious campaign to replace the iconic rocket. Working with Principal Kurt Glathar, the "Raise the Rocket" committee, headed by 1991 LNE Alumni Jason Lemon, was formed to achieve this goal.